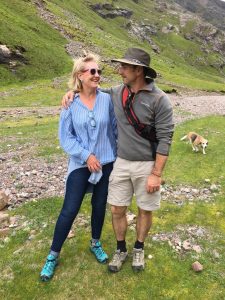 Hi I'm Billy…your guide and skipper for your slow adventuring & wildlife trips on the north west coast of Scotland.
I was brought up on the west coast of Scotland and spent most of my life on the water, 35  years as a fisherman & Skipper with thousands of hours under my belt in our local waters. I know all the hidden gems around our coastal waters.
I take pride in my vessel Cyfish and also the successful collaborations I have with other  local buisness that come together and help me deliver a memorable trip for visitors to the area.
I  have a passion for adventure and the simpler things in life. Canoeing, sport fishing, mountain biking, walking,  good food & drink and wide open spaces….
Wanting to share my enthusiasm for the hidden treasures the local area has to offer I purchased a charter vessel…Minch Adventures was born!
I make every trip personal, I take time to listen to your needs and tailor the trip accordingly. So if you are looking for something different…something special then come and join me on a cruise on the North West Coast of the Scottish Highlands
Guests will leave with a lifetime of memories to treasure.