Out on the horizon when looking slightly South of West the peaks of the Isle of Rum, an island in the Small Isles, stand tall.
The background can be everything. A magnificent sunset of blazing oranges and reds with the island silhouetted against in stark relief, or the island might disappear into the swirl of fog and spume created by an Atlantic storm rolling in from the beyond. Whichever way you see it, the island is alluring…
The allure makes you want to head over and seek more. Once on the island though where do you go? There is plenty to explore within walking distance of the landing ramp of the Calmac ferries, but, the real way to explore Rum is to head out into the interior by 4×4.
Over to the North coast or the East. Wild coastlines with wilder life and wild history.
Travelling with Minch Adventures allows you to have the ultimate experience – Stories, Food, Fishing & Whisky. Head over by ferry or Private Charter and then take a personalised 4×4 journey across the island. Even better let Billy take you to one of his favourite mountain lochs fishing, cast a fly for some of the biggest, and best tasting, wild Brown Trout – Guaranteed..!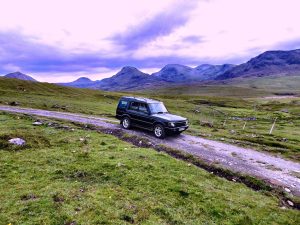 After a day on the hill or travelling the sights and sounds of the interior, return to Kinloch and meet the locals to share a beer, maybe a BBQ and on the return back to Mallaig sample the choicest Gaelic Whisky from local distilleries, while casting a last look behind as the sun sets on a day of memories.